5 Tips to Help You Coordinate with Your Roommates Off-Campus
By Naomi Fink
Moving into an off-campus apartment this year? That's awesome! Congrats! Off-campus apartments can be cheaper and homier than on-campus housing -- but, it also means that you have more responsibilities as a roommate and as a tenant. Here are some tips to help you coordinate with your roommates, stay organized, and most importantly, protect your relationships.
1. Make a group chat with your roommates.
This may sound obvious, but to coordinate with your roommates you'll need a way of communicating regularly. If possible, use WhatsApp, GroupMe, or some other form of messaging where you can respond to individual messages directly. It can get confusing when everyone's chatting at once and the reply feature is a life-saver! Open the flow of communication early on to make sure you and your roommates have what you need and are properly prepared for moving day.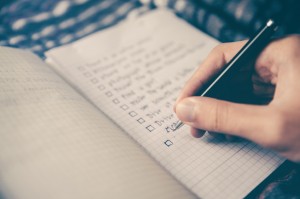 via Unsplash
2. Create a list of all the things you need.
There's no better way to stay organized than by using a good old-fashioned checklist! When coordinating with your roommates, it can be useful to share a Google Doc list of shared items, especially since many things that were previously included in your dorm room -- like beds, dressers, desks, and storage space -- you'll now have to procure yourselves.
Start off with a list of necessities and slowly work your way towards your wish-list items. As much as you might want those fun twinkly-lights for your bedroom, making sure you have pots and pans for your kitchen should probably come first. Color-coding is an excellent way to split up responsibilities and keep track of who's bringing what. Coordinate with your roommates and share pictures of the items you're bringing to make sure you're all on the same page and that all your bases are covered.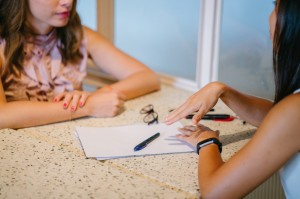 via Pexels
3. Discuss your plan for dividing expenses.
Perhaps the toughest conversation you and your roommates will need to have is the talk about finances. Are you splitting all expenses equally? Should you divide responsibilities by costs or by items? Do you really need a $200 couch when a $100 couch will do? These questions can be especially difficult to discuss if you and your roommates are coming from different socioeconomic backgrounds, so it's important to be transparent about your spending limits and expectations from the get-go.
If you're more cost-conscious, resources like Facebook Marketplace and Craigslist are great places to look for gently-used, lower-priced items. You can also save money by using Amazon Student Prime to order items straight to your door in bulk. Using an app like Splitwise or Finsplit can also be a super helpful way of remembering who owes who and how much. Avoid uncomfortable debts and unnecessary resentment by letting technology keep track for you!
And wherever you are on the financial spectrum, try to be sensitive to your roommates' wants, needs, and boundaries. Not everyone can afford brand-new items and not everyone is comfortable with used items -- pick your battles carefully, compromise when possible, and be prepared to give in sometimes. These discussions are important but they aren't worth losing friendships over.
4. Coordinate colors.
Moving into an off-campus apartment and coordinating with your roommates is serious business -- picking out your colors and glamming up your new home is the fun part! Set the tone with matching white furniture and bright blue accent pieces or go with darker hues, featuring sharp black amenities and a splash of burgundy. You'll be in your apartment a lot -- make it look nice!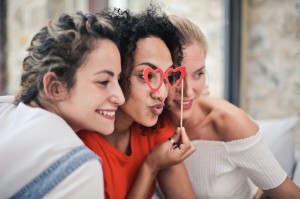 via Pexels
5. Schedule apartment meetings.
Communication is critical when living with other people. Schedule and conduct apartment meetings on a regular basis to check in with one another, confront conflicts, and keep members of your apartment from harboring any resentful feelings. It's much better to discuss your frustrations and work through them than to hold onto negative emotions and let them fester.
Then again, not all meetings need to be -- or should be -- serious. It's important to schedule fun roommate activities too, especially when there are so many stresses that come along with living together! Movie nights, game nights, group hikes, and family-style dinners are great ways to bond with your roommates and strengthen your relationships. You may have only signed a one-year lease but you'll want your friendships to last forever.
If you're nervous about your upcoming move, use these five tips to help you stay on track. Don't let the stresses of off-campus living outweigh the excitement of this new step! Chat, plan, and coordinate with your roommates to ensure a smooth transition into your apartment and peaceful co-existing once you're there. Happy adulting!
Interested in using our roommate matching formula to find the perfect college roommate for you? Create a profile & take the roommate quiz on Roomsurf! Get Started